Fresh Cut Christmas Trees
Nothing captures the scent of the season better than a live Christmas tree!  The memories that one whiff of a fresh tree can trigger are priceless!  To order a fresh cut Christmas tree for delivery in Minot, ND, Click Here.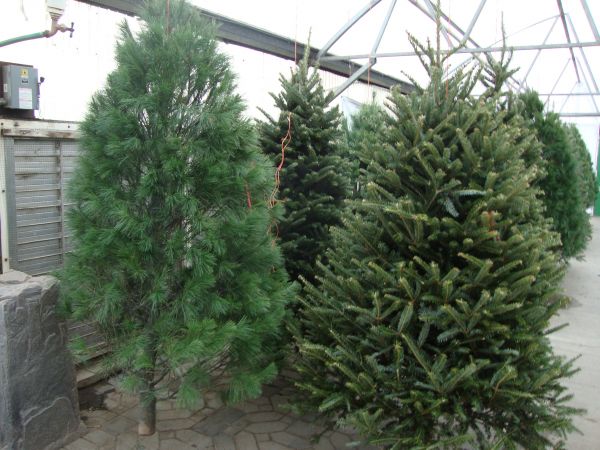 Lowe's Garden Center has the perfect fresh cut Christmas tree for your home or business.  Lowe's delivers Christmas trees free in the city of Minot, and for a reduced delivery charge for surrounding communities like Surrey, Velva, Burlington, Logan, Glenburn and Minot Air Force Base. 
Lowe's Garden Center delivers the following types of fresh Cut Christmas Trees:
Frasier Fir (The best and most popular)
White Pine
Scotch Pine
Balsam Fir (Only available in a short window in mid December)
Colorado Spruce
Black Hills Spruce
Fresh cut Christmas trees come with FREE transport netting, a FREE tree disposal bag, FREE delivery in Minot, ND, and if you bring in or buy a stand at Lowe's, it's installed FREE!
The only secret to keeping a live Christmas tree fresh is to make sure to check the tree for water every day.  A fresh cut Christmas tree can drink up to a gallon of water a day for its first several days indoors.  Some people prefer to check their tree stand for its water level twice a day. 
Longevity and freshness are also enhanced by using a commercial Christmas tree preservative.  Tree food is liquid version of the food that you normally get with cut flowers.  It contains a weak acid, like citric acid, a simple sugar to feed the tree, and a biocide.  
The weak acid, helps water to travel up the stem of the Christmas Tree Faster.  The simple sugar is used by the tree as food and helps keep the alive.  The biocide is a mildchemical to kill bacteria that can grow in the tree stand.
Lowe's Floral and Garden Center in Minot, ND provides Christmas Tree  delivery service to the following areas and zip codes in North Dakota:  58705, 58722, 58703, 58785, 58704, 58702, 58790, 58707, 58701, 58704, 58705.
The Lowe's Floral and Garden Center delivers to the immediate Minot area. We also deliver to the Minot Air Force Base Mondays through Saturdays.
Trees can be delivered to the following areas in North Dakota: Minot and Minot AFB, and the following cities: Burlington, Logan, Des Lacs, Surrey, Velva, and Sawyer.